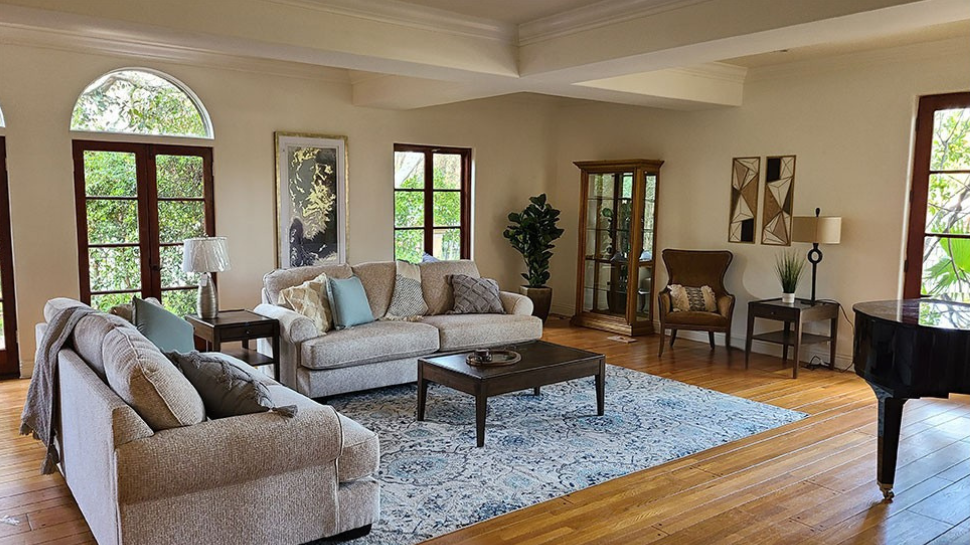 What to Expect in a Luxury Residential Mental Health Treatment Center
What to Expect in a Luxury Residential Mental Health Treatment Center
When you decide to enter residential treatment for a mental health disorder, you may be overwhelmed with internal questions and doubts. Fear is your body's way of trying to protect you from potential dangers—but it can sometimes be less than helpful. Knowledge and clarity can help alleviate some of these fears, and knowing what's coming next can help reduce the anxiety you may experience. To help you on this journey, we have compiled a variety of resources that we hope you will find helpful when preparing for residential treatment.
Facing Common Misconceptions About Residential Mental Health Treatment
Society has shaped our perceptions of mental health treatment, but the messages we've been receiving aren't necessarily true. Don't let those misconceptions keep you from receiving the help you may need. Here are a few common misconceptions regarding entering residential treatment—compared with the reality that meets you on the other side of your fear.
I'll be locked in a padded cell
Horror movies and history books illustrate a less-than-pleasant mental health treatment experience that's also less-than-accurate today. A quality residential treatment center will welcome you to beautiful and comfortable accommodations with outdoor spaces and private areas for reflection. You'll have regularly scheduled therapies each day, but you'll also have time to relax and recharge in cozy living areas or beautiful gardens.
I won't get to talk to my family
The comfort of close relationships is important to you and to your treatment team. That's why a quality residential mental health center will likely allow you access to a computer and telephone to communicate with loved ones during your free time. Some facilities will also encourage family visitation or allow you to bring a companion animal with you to treatment if that would be helpful for your treatment plan. Some centers even incorporate family therapy—of course, only if this is conducive to your healing process.

I'll have to give up a whole year of my life
While treatment stays do vary in length, we usually recommend a program of 6 weeks or more to see significant improvement in your symptoms and allow sufficient time to learn and practice coping skills. You need to allow enough time in residential treatment to settle in, get an accurate diagnosis, regulate any medication changes, and spend intensive work in various therapies. Treatment can be as long or short as you require—your stay's length is often, ultimately, up to you.
They'll put me on "crazy pills"
Depending on your individual needs, medication may play an important role in helping you achieve recovery. Your treatment team will work with you to understand your treatment history and symptoms and develop a correct diagnosis. An in-house psychiatrist will carefully monitor and administer new medications when they are deemed helpful or necessary. Residential treatment centers are safe and controlled environments, and any side effects you experience will be monitored (and remedied) constantly. There's no better place to determine the right medication to suit your needs.

I'll be in grueling therapy every minute of every day
The goal of residential mental health care is to significantly improve your wellness—not to tire you out even further. Your day will include individual therapy sessions, intensive group discussions, holistic and experiential therapies, yes—but also plenty of break time to decompress after all that deep thinking. Residential treatment isn't going to always be a walk in the park, but a quality treatment center will incorporate opportunities to treat the whole person—mind, body, and spirit.
Everybody there will be insane and not like me
Depression doesn't discriminate—and neither do other mental health disorders. In residential treatment, you'll find individuals from all walks of life who are looking to improve their mental health. Part of breaking the stigma against mental disorders means understanding that these issues affect everyone, and there's much to be learned from others who are in similar treatment situations to your own.

I'll never get better—I'll relapse as soon as I leave
Sometimes, our struggles can be demoralizing and cause us to lose hope in our abilities and in our own strength. We understand that you may have battled with these issues. Residential treatment is one of the best ways you can help yourself gain confidence once more. The wellness work you do in treatment will help raise your emotional baseline and help you feel more hopeful for your return to the "new normal." You'll also have ongoing support from staff and be equipped with plenty of coping skills to assist you when you take your first steps back into the world.
Understanding the truth about mental health care that refutes these misconceptions can help make the process of seeking treatment more straightforward and less frightening or uncertain—as can understanding what the admissions process will look like.
What to Expect When Being Admitted to a Luxury Residential Mental Health Treatment Program
The admissions process at a quality mental health care facility is designed to be safe, smooth, and easy to complete—so that you can get started on treatment without worrying about the logistics. Here's the general path that most treatment centers will have you follow:
Consider Your Residential Treatment Options
This is the first big step for anyone seeking residential mental health care. A phone call with the center's staff will give you or a loved one the opportunity to ask any questions you may have about the setting, staff, and programs available. If you like, you may tour the treatment center with your loved ones to learn more about the services they offer. If they think your needs could be better met elsewhere, most centers will work with you to help you find alternate care options.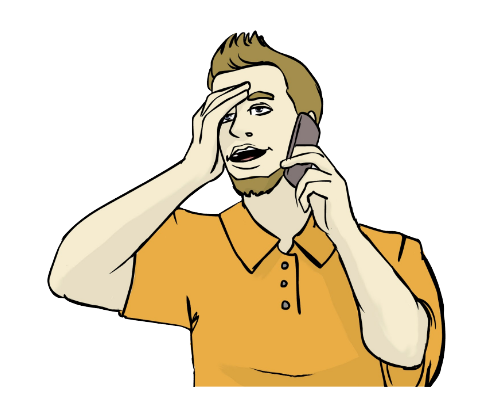 Share an Overview of Your Treatment Needs
Your journey truly begins when you decide to proceed with admission to a particular facility. You'll have a conversation with a compassionate admissions specialist who will get a good idea of your treatment requirements. This is an opportunity for you to express what you need and what you want to accomplish while you're in treatment. Even though this conversation may barely scratch the surface of your story, it's important to be as clear as possible.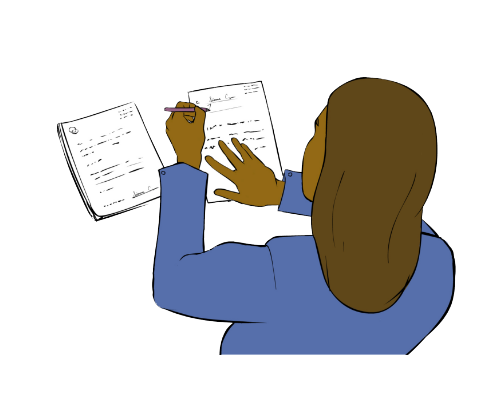 Take Care Of The Paperwork
When starting treatment, you may choose an arrival date that works with your schedule. At this point, it's customary for programs to accept a deposit for your treatment, provided by you or your family. Then, you'll receive admissions paperwork that you can fill out leading up to your start date. Don't worry—the staff at your treatment center are always around to answer questions if you need help with this step! You'll also receive a list of appropriate items to bring with you when you begin treatment, so that you can pack accordingly.
A Warm Welcome On Arrival Day
When you arrive to begin your residential treatment, you'll be welcomed by a staff member who will review the admissions paperwork you completed at home. You'll hear more details about your program, and treatment staff can walk you through anything you may be struggling with or concerned about during your transition into the program.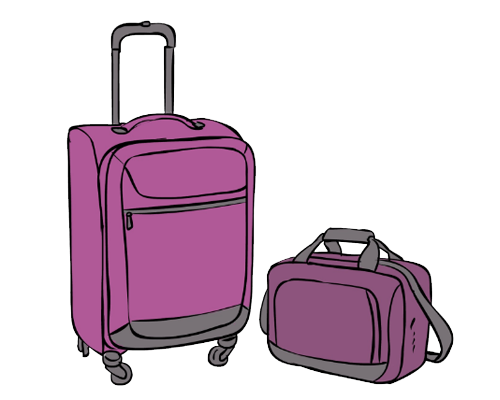 Reviewing Your Luggage Items
As a standard procedure, staff members will inspect your luggage with you to make sure that you've brought appropriate items that comply with the center's treatment policy. This is an important step in preventing triggering situations for all residents at the facility, and helps create a safe treatment environment for you and other clients.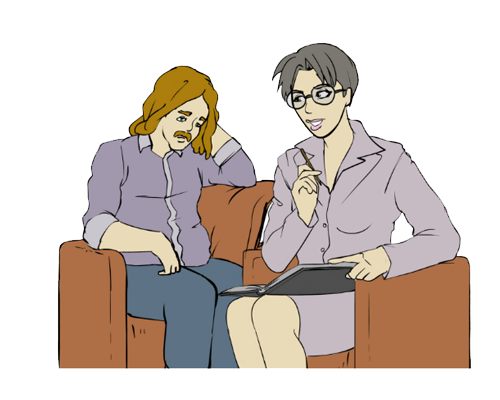 The Diagnostic Process
An in-depth initial conversation with a psychiatrist or clinical psychologist will begin your journey toward a correct diagnosis. Using a combination of interviews and standardized psychological testing, your doctor(s) will identify which chronic and acute symptoms you may be dealing with. A thoughtful team of treatment professionals will work with you for a week or two in order to fully understand your treatment needs through assessing your personality traits, cognitive functioning, and other characteristics. From there, your individual treatment plan will develop from this strong foundation.
After a delicious meal and settling in for a good night's sleep in your new home for the next month or two, you'll be ready to start tomorrow on the right foot. Your journey toward mental and emotional wellness is beginning, and this huge step toward recovery brings you straight into your everyday schedule as a client in residential treatment.
The Daily Routine at a Luxury Residential Center for Mental Health Care
Because improving your quality of life is your main concern during treatment, a quality mental health care facility will provide a structured daily schedule that directly helps bring you closer to that goal. Each day is full of meaningful experiences and therapies that will help you gain wellness and stability.
A POSITIVE MORNING
Breakfast
A wholesome and nourishing meal provides the energy your body needs to begin the day. A choice of healthy options will be provided for you as part of your program.
Personal Reflection
This is an opportunity to spend a bit of morning time in reflection. Journal about or ruminate on what you hope to accomplish in treatment today, how you're feeling, and what your expectations are.
Individual Therapy
Engage in a daily session with your primary therapist. Together you'll dive into the details of your mental health journey to further the healing process.
Other Therapies
Your treatment center may offer additional treatment modalities like Somatic Experiencing (SE) therapy or Eye Movement Desensitization and Reprocessing (EMDR)—both techniques can be helpful with clients with a history of trauma, and can help realign the body and the mind for a more meaningful treatment experience.
A PRODUCTIVE AFTERNOON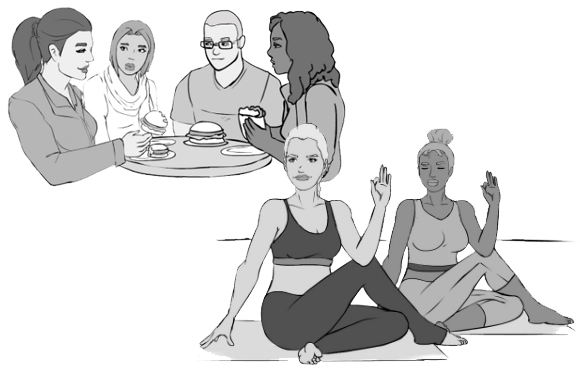 Lunch
The nutritious midday meal acts as a perfect break for the mind and body to recharge after a morning of deep thinking.
Group Therapies
Learning from your peers can be a catalyst for your own treatment. A quality mental health care facility will provide you with handpicked therapy groups to discuss the realities of treatment and recovery with those who understand your experience firsthand.
Relaxing Break
Breaks will be built into your daily schedule in order to give you time to decompress from the day. You can relax alone or with other clients, enjoy the outdoor spaces of your facility, or rest in your accommodations.
A PEACEFUL EVENING
Dinner
The final meal of the day tends to feel like the finish line at the end of a difficult but worthwhile race. Enjoy another healthy and delicious meal as a reward for a hard day's work.
Holistic Therapies
Late afternoon and evening are the perfect times to relax the mind and body with holistic therapies like yoga, meditation, art, and music therapy. Your center may offer massage or acupuncture as well, which provide their own mental health benefits beyond the basics of deep relaxation.
Peer Support Groups
You may choose to take part in other peer support groups in the evening during your treatment. Your center will also be able to facilitate your participation in a 12-step group if that is part of your treatment plan.
Personal Reflection
Enjoy an introspective moment of reflection before turning in for a good night's rest in your peaceful accommodations. Take some time to journal, meditate, or reflect on the day you've just completed and the lessons you may have learned.
Every day at every facility won't follow this structure exactly, but the core components of treatment will remain the same. You'll work hard in various therapies during the week to gain self-awareness and coping skills that you can take with you, and your weekends will likely be made up of relaxation and experiential therapy to provide a nice change of pace. Altogether, these elements are the building blocks for an effective residential treatment stay, no matter where you go.
Seeking residential treatment to care for your mental health is a big decision, and selecting the right facility can seem daunting. That's why our professional staff are available any time to discuss any questions you may have about the process or what to expect.
Reach out to us today
to begin forming a clearer picture of what the road to recovery may look like for you.