When is it Body Dysmorphic Disorder? Recognizing the Signs and Seeking Treatment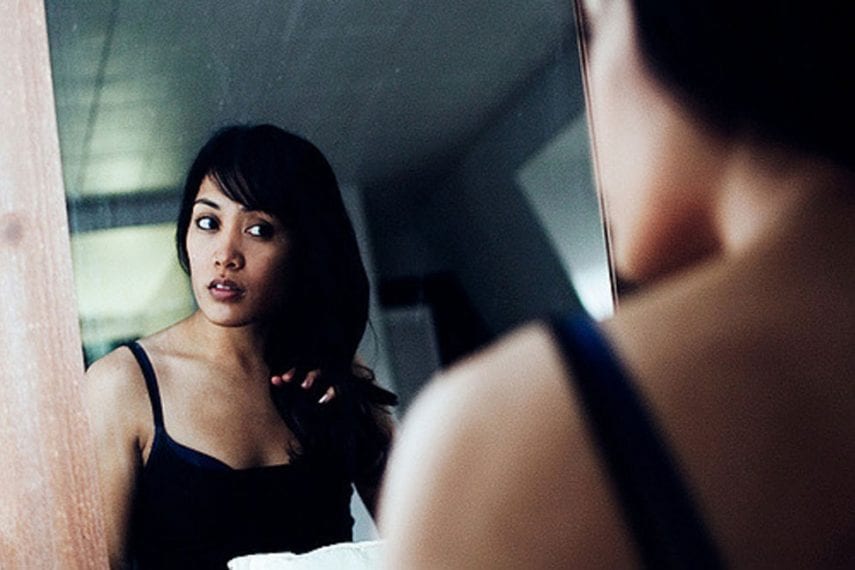 Standing in front of the bathroom mirror, we all tend to focus on our flaws: our nose is too long, our eyes are too close, our muscles aren't defined enough. In a world driven by beautiful people in the media, it's easy to feel less than adequate. We laugh it off with our friends–after all, it seems like everyone has low self-esteem. What most people don't realize, however, is there is a point where low self-esteem transitions into a mental health condition. There is a point when minor flaws in appearance, perceived as major issues, result in severe self-destructive behaviors. This point is called body dysmorphic disorder.
Body dysmorphic disorder is defined by the Anxiety and Depression Association of America as "a body-image disorder characterized by persistent and intrusive preoccupations with an imagined or slight defect in one's appearance."
That sterile definition fails to convey the devastating effects of body dysmorphic disorder on a person's life, nor does it explain where it comes from. For 22-year-old Anna, body dysmorphic disorder began as social phobia–a social anxiety disorder–and controlled every aspect of her day-to-day life. Her preoccupation with appearance started in middle school, when she started comparing herself to friends and to women in magazines. Anna's fear of judgment was further fueled by bullies at school. She developed an obsessive focus toward parts of her body she thought were ugly. She wore baggy clothes to cover her midriff; spent hours applying makeup to try and make her eyes look bigger; woke up extra early in the morning to make sure her hair was just right. But no matter what she did, she couldn't fix her perceived imperfections. Eventually, Anna stopped going over to her friends' houses. She avoided all social functions and dropped out of her school activities. She felt like any time she walked into a room, people were staring at her worst features. She hated herself so much she contemplated suicide.
Sadly, Anna's reality is mild compared to some body dysmorphic disorder cases. Her obsessiveness is also commonly found in people with body dysmorphia; in fact, obsessive-compulsive disorder and anxiety are cited as two major entry points for body dysmorphic disorder. Some people with this condition start self-harming, cutting themselves, self-medicating, or otherwise making alterations to their bodies. As adults, many undergo multiple expensive cosmetic surgeries. Others are too overwhelmed by the negativity of body dysmorphic disorder and do take their own lives. Thankfully, there is hope even on the darkest days for people with this condition–body dysmorphic disorder is highly treatable, even as a co-occurring condition with other mental health disorders.
Do you or does someone you love have body dysmorphic disorder?
---
Body dysmorphic disorder goes beyond low self-esteem, and many people suffer from the condition without realizing it. The Body Dysmorphic Disorder Foundation indicates a person may have body dysmorphic disorder if they spend excessive amounts of time:
Checking their appearance in the mirror. This isn't performing a quick mirror-check before you walk out the door–it's becoming so anxious about your appearance that you can't even carry on a short conversation without finding your eyes drifting to assess your reflection.
Checking their skin with their fingertips. The constant concern over perceived blemishes can lead to incessant touching and picking. This non-stop attention can result not only in skin irritation, but can cause more noticeable issues like acne.
Cutting or combing their hair with the goal of perfection. Individuals with body dysmorphic disorder often allocate hours to styling their hair, but no matter how long they spend, they never consider it perfect.
Picking at their skin to make it smooth. Picking often gives the sensation of "problem solving," but the reality is picking can lead to scarring which will only make a blemish more obvious.
Comparing themselves to models or people in real life. Others are seen as perfect in the eyes of someone with body dysmorphic disorder, and individuals with this condition will often use any means possible to copy the look of someone they admire.
Discussing their appearance with others. Because appearance is priority, it becomes their most common topic of conversation.
Camouflaging their perceived flaws. If flaws can't be fixed, they may be covered up through heavy makeup or baggy clothing.
Yes, most people find themselves prone to one or more of the above habits, but when you have body dysmorphic disorder, you spend hours performing such activities, and allow your concern with appearance to impact your regular routine. Do you avoid certain situations or places because you are afraid of how you look? Do you feel depressed when you think about your appearance? Have you shut out friends and family members because you don't want them to see your flaws? What you're suffering from may be more than just low self-esteem.
Consequences of Body Dysmorphic Disorder
---
Body dysmorphic disorder is more than an obsession with appearance. It is a painful, consuming condition, often stemming from anxiety or OCD, which erodes the foundation of your very identity. If left untreated, body dysmorphic disorder can result in:
Lost family/friend relationships. Friends and family will wonder why you're always avoiding social events and gatherings.
Lost employment: Employers won't understand if you miss meetings or deadlines because you're embarrassed about your appearance or couldn't step away from the mirror in time because everything wasn't "just right."
Permanent disfigurement. Self-medicating or treating at home (like lancing pimples) can result in irreversible scarring.
Hospitalization: Sometimes body dysmorphic disorder can cause behaviors–like eating disorders–that affect the entire body. Malnutrition can cause organ damage and result in hospitalization.
Bankruptcy: Expensive surgeries with the goal of physical perfection can easily rack up enormous debt. This debt can prevent you from buying a home or getting a loan in an emergency.
Suicide: If you dislike yourself to such a degree and feel hopeless, you may attempt to take your own life.
Body dysmorphic disorder is treatable
---
Thankfully, body dysmorphic disorder is a treatable mental condition. Professional guidance can help you realize your feelings of inadequacy are unwarranted, and once you recognize how harmful things like negative self-talk can be, you can start modifying your behaviors. The National Library of Health explains that there are many facets to treating body dysmorphic disorder. Traumatic past events and cultural expectations which are exacerbated by OCD or anxiety must be individually dealt with through customized therapy.
At Bridges to Recovery, all facets of an individual's psyche are examined to develop personalized therapy. That patient then undergoes cognitive restructuring, where he or she is taught to challenge the reality of their distorted thoughts on their body. This mindfulness is then combined with behavior modification to help the patient break through the rituals of things like mirror checking and skin picking, and occasionally also medication to relieve symptoms of anxiety or depression. Treatment for BDD happens simultaneously with treatment for any co-occurring disorders, so you can address both your BDD and the disorder it may have stemmed from at the same time.
No matter what, remember that you are not alone. The despair and anger you feel when you look in the mirror is not because you are an unattractive person; it is because you have a mental health condition. Knowing that what you're going through is a symptom of a serious condition, rather than just low self-esteem, is a huge step towards getting help. Reach out, take that step, and let us help you on the road to recovery.
If you are concerned body dysmorphic disorder is affecting your daily life, the professional team at Bridges to Recovery is here to help. The caring doctors and staff will walk with you down the road to recovery, using the latest and most effective treatment methods. Contact us today with any questions, and let's get started.