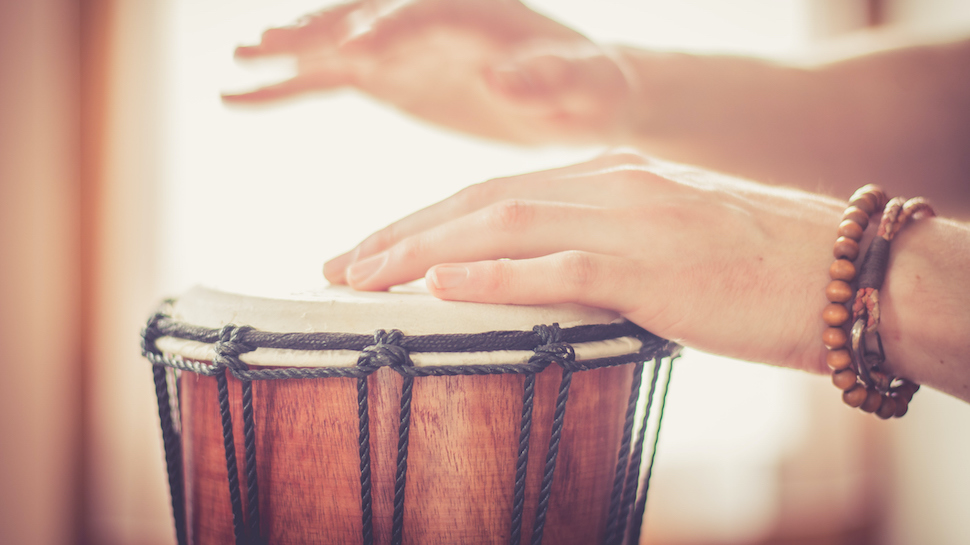 Drumming Group
Drumming has been used as a form of communication and meditative practice for thousands of years. The longevity and cross-cultural nature of drumming is a testament to its power as an instrument of self-expression, social bonding, and psychological wellness. The creation of rhythmic beats and engagement of the body in musical production can lead to profound emotional release for people suffering from mental health disorders. Drumming engages the whole brain, synchronizing your logical and intuitive abilities while stimulating the formation of neural connections that increase cognitive function, self-awareness, and experiential integration. Simultaneously, endorphin and endogenous opiate release produce feelings of wellness and relief from pain. The innovative, comprehensive treatment program at Bridges to Recovery incorporates the ancient art of drumming to help our clients experience optimal outcomes and freedom from psychological suffering.
Drumming Group at Bridges to Recovery
---
At Bridges to Recovery, you are invited to participate in our drumming group at your own pace, allowing you the space to explore your sonic meditative process in a supportive environment. Drumming offers a non-verbal language for self-expression that allows you to feel understood and validated without having to verbally disclose the details of your emotional experience. This can make the group particularly inviting to those suffering from trauma-related disorders, who have trouble articulating their thoughts, or who feel anxious sharing in a group setting. At the same time, our compassionate drumming leader may encourage you to discuss your physical and emotional experience if you feel comfortable doing so, giving you the opportunity to verbalize the insights you have gained.
Drumming can lead to meaningful self-discoveries and the uncovering of unconscious thoughts; one client living with bipolar disorder found that her drumming patterns replicated her mood cycling, and was able to describe her experience, release her frustrations, and integrate drumming practice in her ongoing mental health management strategy, leading to a newfound sense of stability and wholeness. The element of peer support augments the healing benefits of aural meditation, breaking isolation and producing feelings of belonging amongst people who understand and share your struggles. Integrating this unique form of creative expression in your larger treatment picture can help you gain new perspectives on yourself and the world you while finding relief from emotional pain.
Benefits of Drumming
---
Reduces anxiety and stress levels
Offers non-verbal avenues for self-expression
Lowers blood pressure and heart rate
Decreases physical pain
Augments self-understanding and insight
Promotes confidence and social connection
Encourages positive energy and removal of emotional blockages
Contact us to discuss how our drumming group and wide range of other therapeutic modalities can help you or your loved one. Bridges to Recovery is committed to providing the most effective, meaningful treatment options to address complex mental health disorders, and we are always available to answer your questions and address your concerns.