When Your Illness Keeps You From Treatment: Group Therapy for Social Anxiety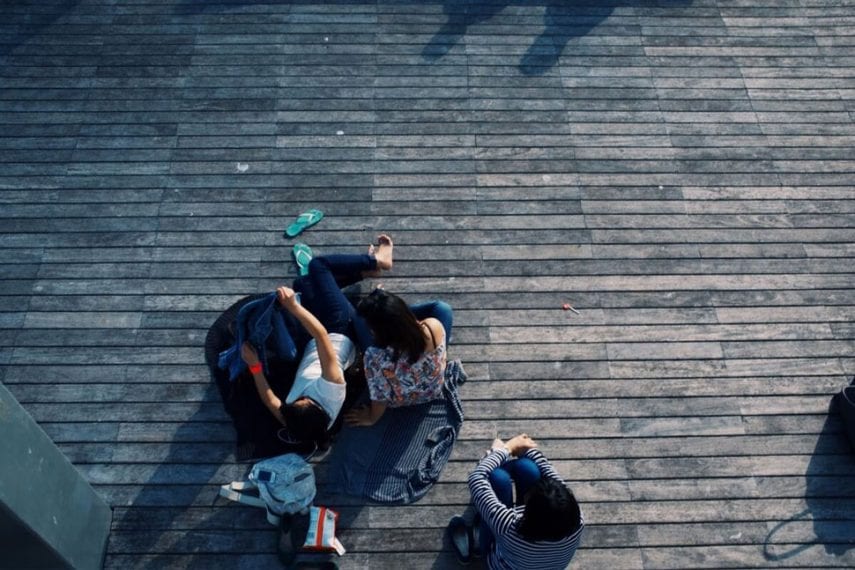 What if I blush? What if my voice starts shaking? What if everyone stares at me? What if I need to run out of the room? What if I have the most severe case? What if it doesn't work? What if … what if … what if?
Imagine that you are scared of flying. You can't deal with the thought of getting on a plane and leaving the earth behind. You know there is a cure for it, but the only way to get the cure is to fly across the ocean in a terrifying journey. You'd be paralyzed. That's the catch-22 and the horrible, stifling contradiction at the heart of social anxiety. It is one of the most common mental health disorders, and its very symptoms–the fear of being vulnerable and opening up–are what keep people from seeking treatment.
The prospect of participating in one-on-one psychotherapy can be paralyzing, especially when doing so requires emotional vulnerability and revealing personal details of your life. Even worse can be the possibilities of group therapy, which involves engagement with multiple strangers at once. However, if you are committed to taking the next steps toward relieving social anxiety, group therapy is one of the most useful treatments available to help free you from your fears. While individual psychotherapy can be tremendously valuable to closely examine your anxieties and life experiences while gaining new coping skills, group therapy gives you the opportunity to put those skills into practice and experience the benefits of peer support. Approaching the process with the right mindset can help you feel at ease and get the most out of your treatment.
Work With Your Therapist
---
Before your first group session, advise the therapist that you suffer from social anxiety, tell her about your fears regarding group therapy, and let her know how you envision yourself being able to participate. At Bridges to Recovery, in-depth assessments from your clinical team will give our group therapists a complete picture of your situation that allows them to tailor a treatment program specifically suited to your needs, and understand how best to serve your interests in a group setting. The trusting relationships you form with your therapists can help them to guide the group in a way that makes you feel welcome and safe while encouraging you to participate in the way that feels right for you. For example, you may want to avoid having to speak extensively when introducing yourself to the other members. By establishing a rapport with your therapist, she or he can be sure not to ask for too much too soon, and allow you to determine your own level of engagement.
Take It Slow
---
Integrate with the group at your own pace. The treatment process takes time and you are not expected to overcome your anxiety at your first session. If you don't feel comfortable participating yet, just listen. You can learn a lot from hearing other people talk about their struggles, and there is great value in bearing witness to someone else's therapeutic journey. As you get to know the group members, watch others share their experiences, and see the sense of support that is possible in group environments, the obstacles standing in the way of your participation may dissolve or lessen.
Prepare
---
If your social anxiety leaves you feeling tongue-tied, write down ideas for things you want to bring up before the session starts. Having your comments in writing keeps you from being put on the spot and ensures you don't forget important concerns you need addressed in order to move forward. The comfort of knowing that you are prepared and won't be left speechless can help you relax and dissipate nervous energy.
Challenge Yourself
---
Take advantage of the opportunity to practice social interaction in a safe, supportive environment. Sitting on the sidelines may be temporarily safer, but in the long term you will be more comfortable and fulfilled if you can manage the symptoms of your social anxiety and keep them from interfering with your life. The way to do this is by facing your fears and working through difficult emotions to overcome your distress. Challenge yourself to participate in order to heal from your anxiety rapidly, find relief from suffering, and live the life you want.
Residential Treatment
---
The best place to practice the vital skills that will help you overcome your social anxiety is in an immersive therapeutic environment that combines individual and group therapies for a comprehensive treatment experience. Bridges to Recovery's residential program provides an intensity of treatment that cannot be replicated in an outpatient setting; with individual psychotherapy and daily therapy groups, you can quickly develop the skills you need to break through your fears and overcome psychological distress. With a maximum of 6 clients at a time, we offer an intimate, warm setting where you can explore your mental health disorder and its impact on your life without judgment. We support your personal growth while respecting your boundaries and strive to make you feel at home. Social anxiety is treatable, and we can guide you toward a healthier, more stable life without fear.
Contact us for more information about how Bridges to Recovery can treat your social anxiety.